Wednesday, October 31, 2018 at The Raleigh Playhouse & Theatre in Beckley WV
Little Shop of Horrors (the Musical) debuted on Oct. 31, 2018 to sold-out crowds, establishing that a Broadway-level musical can be fully realized with a team of 20+ people from right here in the Mountain State.
After the overwhelming success of the all original production of FRACK!! (The Mountain Music Comedy Spectacular), our team went on the search for the next big thing, and boy, did we find it! What better way to celebrate the Halloween season than with a musical about a man-eating plant?
The Collective's production of Little Shop of Horrors brought the wonder and delight of a night on Broadway to the stage of The Raleigh Playhouse and Theatre, featuring an all-local cast, crew, art direction, production staff, and live band.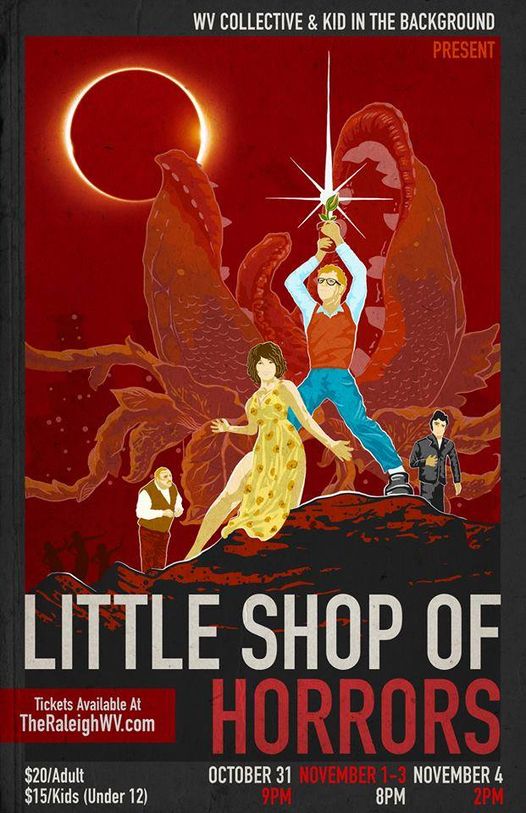 About the story: Little Shop of Horrors is a delectable sci-fi horror musical with an electrifying 1960s pop/rock score by Alan Menken and Howard Ashman.
Seymour Krelborn is a meek and dejected assistant at a floral shop who happens upon a strange plant, which he affectionately names "Audrey II" after his crush at the shop. Little does he know that this strange and unusual plant will develop a soulful R&B voice, a potty mouth, and an unquenchable thirst for HUMAN BLOOD.
As Audrey II grows bigger and meaner, the carnivorous plant promises limitless fame and fortune to Seymour as long as he continues providing a fresh supply of blood. Just when it's too late, Seymour discovers Audrey II's extra-terrestrial origins and his true drive for world domination.