Wednesday, November 21, 2018 at The Raleigh Playhouse & Theatre in Beckley WV
To celebrate the 50th anniversary of the release of Martin Scorsese's iconic rock documentary, The Last Waltz, a group of local musicians, companies, and organizations created an Appalachian-based tribute concert — West By God Waltz.
The event, featuring more than two dozen of the region's most loved and respected musical talents, will include a 7 p.m. meal at Sir Walter's Tavern, the concert at 8 p.m.
A portion of the proceeds were donated to WV Collective, the local arts nonprofit recently behind 'Little Shop of Horrors' and 'WVPubfest'.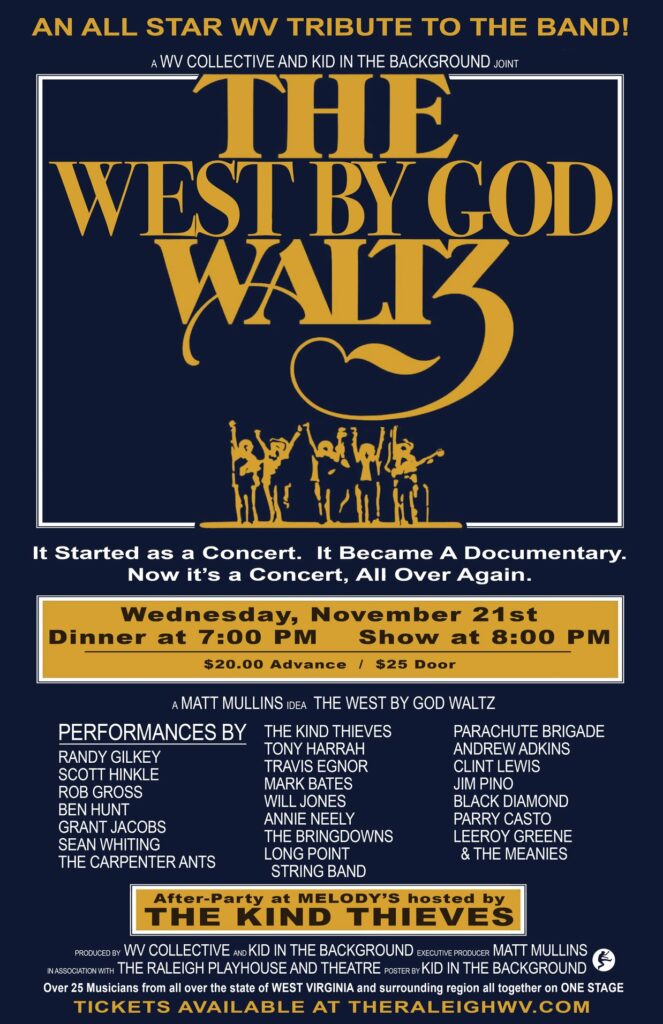 West By God Waltz featured live performances by Randy Gilkey (The Boatmen, The M.F.B.); Scott Hinkle (Red Audio); Rob Gross (Black Garlic); Ben Hunt (The Kind Thieves); Grant Jacobs (The Company Stores); Sean Whiting; The Carpenter Ants; The Kind Thieves; Tony Harrah; Travis Egnor; Black Diamond (Neil Diamond Tribute Artist); Mark Bates (as seen on Mountain Stage); Will Jones; Annie Neely; Matt Mullins & The Bringdowns; Long Point String Band; The Parachute Brigade (as seen on Mountain Stage); Andrew Adkins (Wild Rumpus); Clint Lewis; Jim Pino (Piney Creek Canyon Band, Big Daddy and the Mudcatz; Parry Casto (The M.F.B.); and Leeroy Greene & The Meanies (voted WV's second worst band).
Register-Herald Arts & Ent. Article