Saturday, September 21, 2019 at the Beckley Intermodal Gateway in Beckley WV
Original Article – Register-Herald Aug 23, 2019: WV Collective, the folks who brought Beckley WVPubFest, "Little Shop of Horrors," and "Hedwig & The Angry Inch" – have partnered with Clean Lines, Weathered Ground Brewery, and The City of Beckley for The Great Beckley Beer Festival, coming to the Beckley Intermodal Gateway on Sept. 21.  According to Jason Lockart, president of the WV Collective and owner of Clean Lines, the 2019 Beckley beer festival will feature over 50 beer selections from more than two dozen breweries and distributors.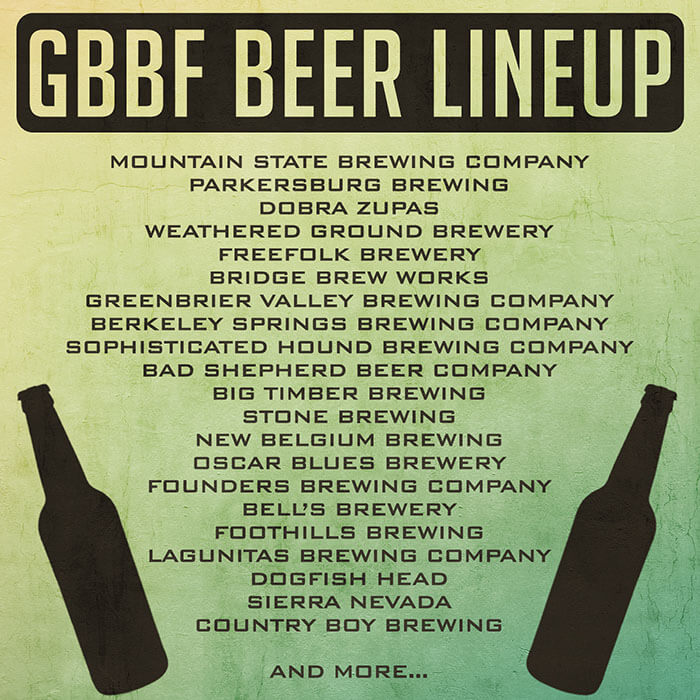 Several special local breweries will also be making an appearance during the festival.  While tasting the finest craft beer that the Mountain State has to offer is its focus, The Great Beckley Beer Festival will also host live music while bringing the region's best craft, art, and food vendors together.









Throughout the day, music performed by local favorites, including The Kind Thieves, The Company Stores, The Parachute Brigade, Matt Mullins & The Bringdowns, Long Point String Band (VIP only), Thomas Danley, Drew Bailey Lawrence, Matt Deal Music, and Clinton Scott will fill Beckley Intermodal Speedway. Lockart said (The Great Beckley Beer Festival 2019) will offer more music than a traditional beer festival, a decision that was made intentionally.
"A lot of us that put the festival together come from a musical background. Beer festivals are normally put on by beer people and while they do a great job, they don't know music. A lot of great local bands don't get booked for these festivals or events and we just wanted to showcase all this amazing local talent that we have… I have lived in Beckley for 13 years and I'm always on a mission to make it a more interesting and fun place to be."